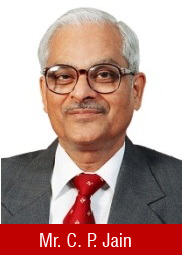 Mr. C.P. Jain was the Chairman & Managing Director of NTPC Limited (National Thermal Power Corporation). He has had an illustrious career, spanning over four decades, in the fields of financial management, general management, strategic management and business leadership.

Mr. Jain joined the board of NTPC in 1993 as Director (Finance) and was elevated as Chairman & Managing Director in 2000. Before superannuating as the Chairman & Managing Director in 2006, Mr. Jain spearheaded a major capacity addition programme at the organization which culminated in NTPC becoming a 46,000 MW company by 2012. He led the transformation of NTPC into an integrated global energy major, dealing in all the links of the energy value chain covering coal, natural gas and LNG value chain, power trading, power distribution and hydro power development.

He also led the capital market entry of NTPC through its IPO in 2004, placing it among the top three companies in terms of market capitalization in India.

Appreciated widely across industries, Mr. Jain has been awarded Ernst and Young 'Entrepreneur of the year - Manager' Award 2005 and SCOPE Award for Excellence and Outstanding Contribution to the Public Sector Management Individual Category' for the year 2003-04.

Mr. Jain has been the Chairman of the Global Studies Committee of World Energy Council, London (world's largest energy NGO with 90 member-nations) for a six-year term. He has also been the Chairman of Standing Conference of Public Enterprises (SCOPE), the apex organization of Central Public Sector Enterprises (CPSEs) in India, for a two-year term. He has also headed CII's National Committee on Energy. He has graced several important committees at the national level, including the Ad-hoc Group of Experts on Empowerment of CPSEs, the Audit Advisory Board of the Comptroller and Auditor General (CAG) of India, and the Standing Technical Advisory Committee of the Reserve Bank of India (RBI).

He has served as an independent director on the boards of Reliance Capital Limited and Reliance Infrastructure Limited. He continues to be an independent director on the boards of Adani Power Limited, IL&FS Infrastructure Development Corporation Limited, IL&FS Energy Development Company Limited & PCI Limited and is a member on the advisory board of Axis Infrastructure Fund

Mr. Jain is a fellow member of the Institute of Chartered Accountants of India (ICAI) and holds a bachelor's degree in law and an advanced diploma in management.